Octocon has picked not one but two books for this year's book club, which will take place via Discord text & video chat on the weekend of Octocon.
Don't worry, they're short ones…
In a Glass Darkly – Sheridan Le Fanu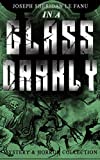 This collection of stories by one of Ireland's most famous Gothic writers includes the classic vampire tale Carmilla – if you don't have time for any of the other stories, definitely read this one!
You can get the ebook for free at Project Gutenberg.
To Be Taught, If Fortunate – Becky Chambers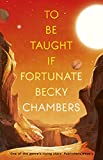 A stand-alone novella rather than part of her Hugo-winning Wayfarers series, this 2020 Hugo finalist details the adventures of explorers sent out into space to find planets that humans could potentially colonise. As well as describing fascinating worlds (and the conditions which created them), it's a story about what it means to be human when your body can be changed to fit its environment and when you carry the hope of your home on your shoulders.
You can buy this at any good book shop (including Hodges Figgis) or as an ebook from your usual retailer.