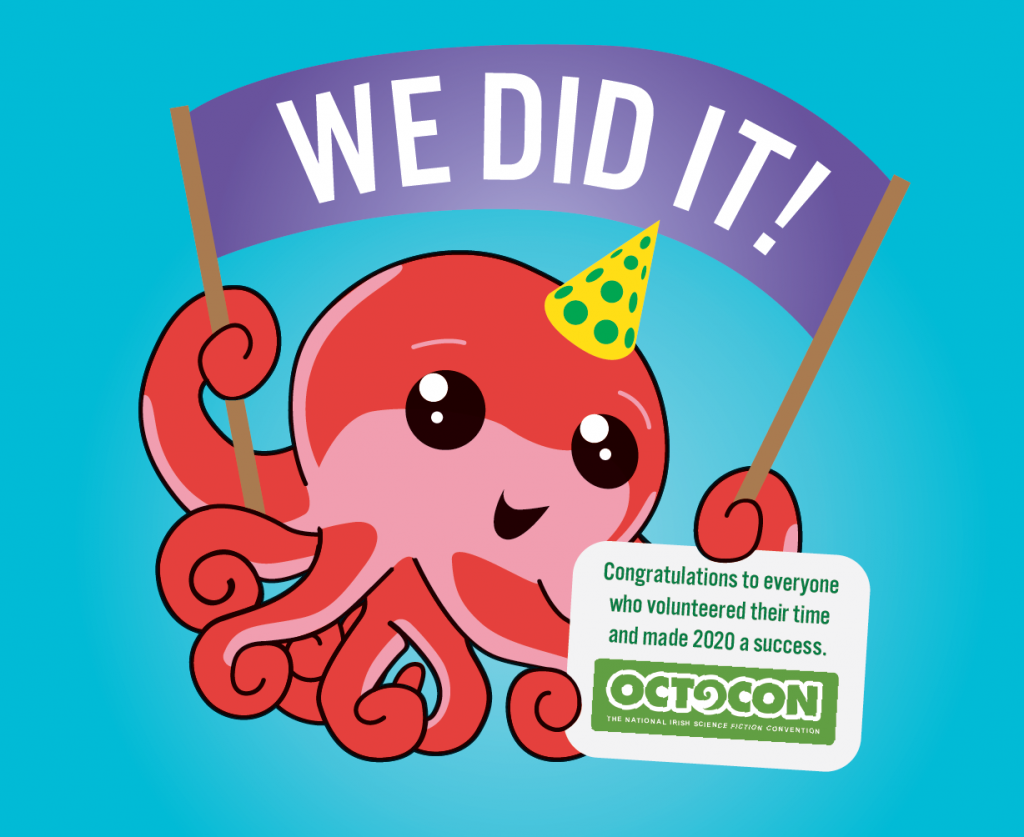 Despite all the challenges thrown our way this year, Octocon 2020 was a great success! We ran on Twitch, Zoom and Discord, with:
300+ people on Discord from over 20 countries
400+ unique views on Twitch
70+ programme participants
over €1500 raised so far to cover our costs and to donate to our chosen charity Jigsaw (full details at the end of October after the tip jar is closed)
Thank you so so much to everyone who gave their time and energy and money to help make Octocon 2020, especially our Guests of Honour Michael Carroll, Helen Ryder and Philippa Ryder; our incredible set of producers and volunteers; our programme participants who appeared on panels, hosted fan chats, and gave workshops, talks and readings; our dealers who showed off their wares on Discord; Punctuation and the Glasgow in 2024 Worldcon bid who hosted Zoom parties; the programme team who worked incredibly hard to put together our set of panels, fan chats, talks and readings; and of course the committee, with special thanks to James Brophy for all the incredible artwork (and the convention of Octos).
Bonus thanks to Marc from Fingal Libraries for coining 'Octoe'en' as the night before Octocon, and Ruth from the Glasgow in 2024 bid for suggesting that this is an 'octumnal' time of year.
Many of our panels will be available to watch on Twitch for the next 2 weeks, with bonus clips from our chair Raissa's attempt at playing Untitled Goose Game for the first time during a break in panels!
Discord remains open for a short while longer, and all the panel/fan chat/talk channels have been made visible again for you to check through the lengthy lists of recommendations!
Finally, our 2021 site is now live, and so is registration – for supporting memberships of €20 only. We hope to announce our 2021 date and venue as soon as possible.
Remember that if you bought membership for 2020, that has been rolled over and you are automatically a member for 2021. If you have a supporting membership you will be able to upgrade when we open full registration.
See you again next year!